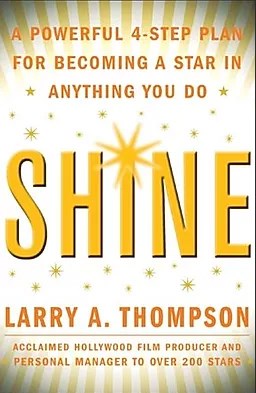 As an author and motivational speaker, Thompson's best-selling self-help book, SHINE: A Powerful 4-Step Plan For Becoming A Star In Anything You Do, was published by McGraw-Hill.
In this pop culture, self-help book, Thompson explains to readers that you don't have to be in the movies to be a star. He offers sound advice on not only how to look like a Star, but more importantly, how to think, act, live, and become a Star in their own lives. With action-oriented exercises, probing questions, celebrity examples, and personal anecdotes, Larry brings to life four essential elements needed for ultimate success in any field: TALENT, RAGE, TEAM, and LUCK. He provides the prescription and support a reader needs to realize an "extreme motivational makeover" and map out their own unique Road to Stardom.
Reflecting upon the extraordinary experiences of his celebrity clients, which have included, Drew Barrymore, William Shatner, Cicely Tyson, Cindy Crawford, Joan Rivers, Jason Bateman, David Hasselhoff, Iman, Scott Hamilton, Barry White, Melissa Rivers, Mariska Hargitay, and Sonny & Cher, Thompson has written an innovative, celebrity oriented, self-help book wrapped within the tinsel of Hollywood but presented to everybody who wants to Shine in their own life and reach their full potential.
ENDORSEMENTS:
"My friend Larry Thompson, a Star-Maker in Hollywood, extends his expertise to the rest of the world. A must-read for anyone who wants to be successful in business and relationships."
-WILLIAM SHATNER
"Engaging, heartfelt, and instructive - Larry's book will start you on the Road To Success."
-JANE SEYMOUR
"Larry Thompson breaks down the Stars' strategies in a way that anyone can stop imagining and start living the life they have dreamed of living."
-ANTHONY ROBBINS, Bestselling Author and The World Leader in Personal and Professional Coaching
"Larry's plan for personal fulfillment and Stardom will make you Shine."
-JOHN GRAY, Ph.D., Bestselling Author of
Men Are From Mars, Women Are From Venus
"Stars aren't only found in Hollywood. If you want to be a Star in any walk of life, read Larry's book and learn from his wise advice how to become fulfilled in your life and how to Shine."
-ROMA DOWNEY, Award winning actress and Star of "Touched By An Angel"
"This is a really good read."
-DR. PHIL
https://www.youtube.com/watch?time_continue=1&v=26tEJzPFt48&feature=emb_logo